Today Motio celebrates its 13th anniversary.   For the past thirteen years, Motio has been a home for software professionals who are passionate about the art of software development. Our mission during this time has centered around building innovative solutions which improve the lives of our customers.
We don't just do this for a living, we do this because it is our passion. To honor this occasion, we thought it might be fun to take a brief stroll down memory lane.
On June 15th of 1999, Focus Technologies (the original name of Motio) was founded by Lance Hankins and Lynn Moore (in Dallas, Texas).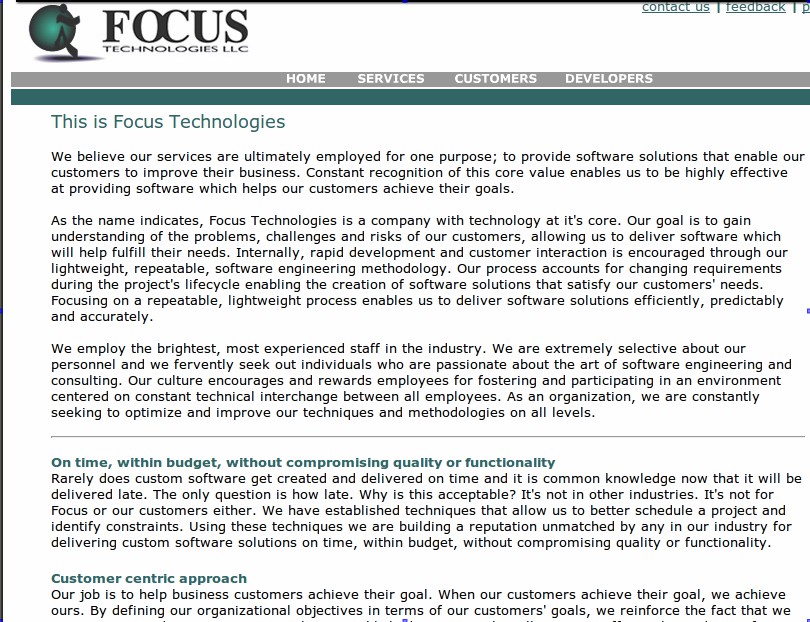 (An early version of the Focus Website)
In its early years, Focus specialized in building large scale distributed systems using CORBA and C++. We quickly became one of the key delivery partners for BEA Systems, who had recently launched an Object Request Broker layered on top of its famous Tuxedo transaction processing system ("Weblogic Enterprise").
As the new millennium began, BEA's burgeoning Weblogic Server product pushed Focus into the J2EE technology space, where we spent the next several years building everything from novel middleware and browser extensions to large-scale J2EE based systems.
In 2003, while ReportNet 1.0 was still in beta, Focus was approached by Cognos about becoming an SDK partner. We accepted, and in doing so, our path would forever change.
Having spent the previous 4 years building everything from middleware to large scale distributed systems, Focus quickly picked up the Cognos SDK and began using it in new and unexpected ways.
We were often brought in to make Cognos do something it couldn't do "out of the box." Sometimes, the things customers dreamt up wouldn't even involve the SDK, but having roots in custom application development made these sorts of engagements a very natural fit for us.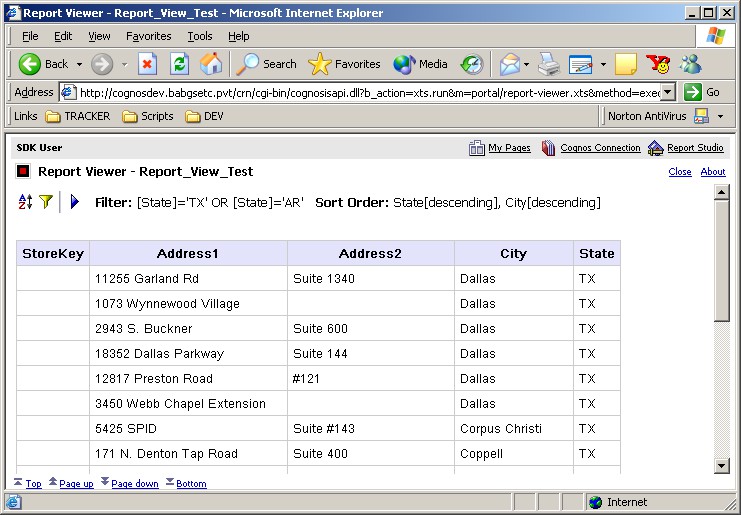 (2003 SDK Engagement – Custom Toolbar to change Filters / Sorts on the Fly)
Focus quickly earned a reputation as "the Cognos SDK experts", and we were pulled into many key Cognos accounts which required the customization, integration or extension of Cognos. After engaging in numerous BI projects which involved heavy customization of Cognos, we began identifying common building blocks which were needed anytime a customer wanted to do this sort of thing.
It is during this time that the framework which would eventually become MotioADF was conceived.
In early 2005, Focus launched this framework as its first commercial product – the Report Central Application Development Framework (or "RCL"). This framework was targeted at customers who wanted to "extend, customize or embed Cognos."   It centered around an object-oriented toolkit which wrapped the Cognos SDK, a robust platform for extending and augmenting Cognos, and a reference application which served as an end-user focused alternative to Cognos Connection.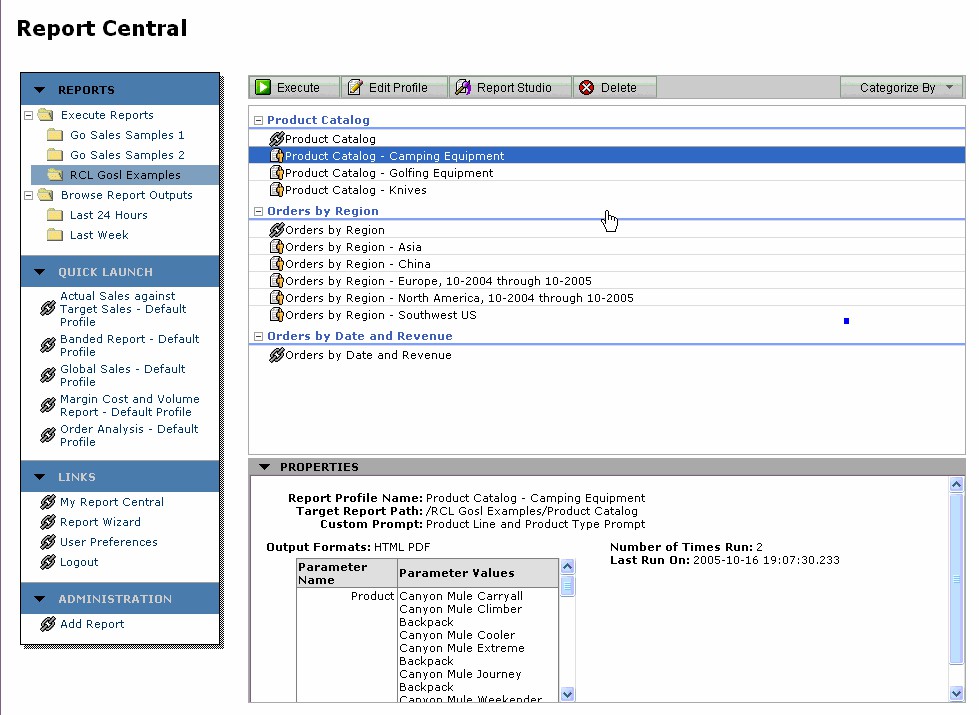 (2005 – ADF Reference App)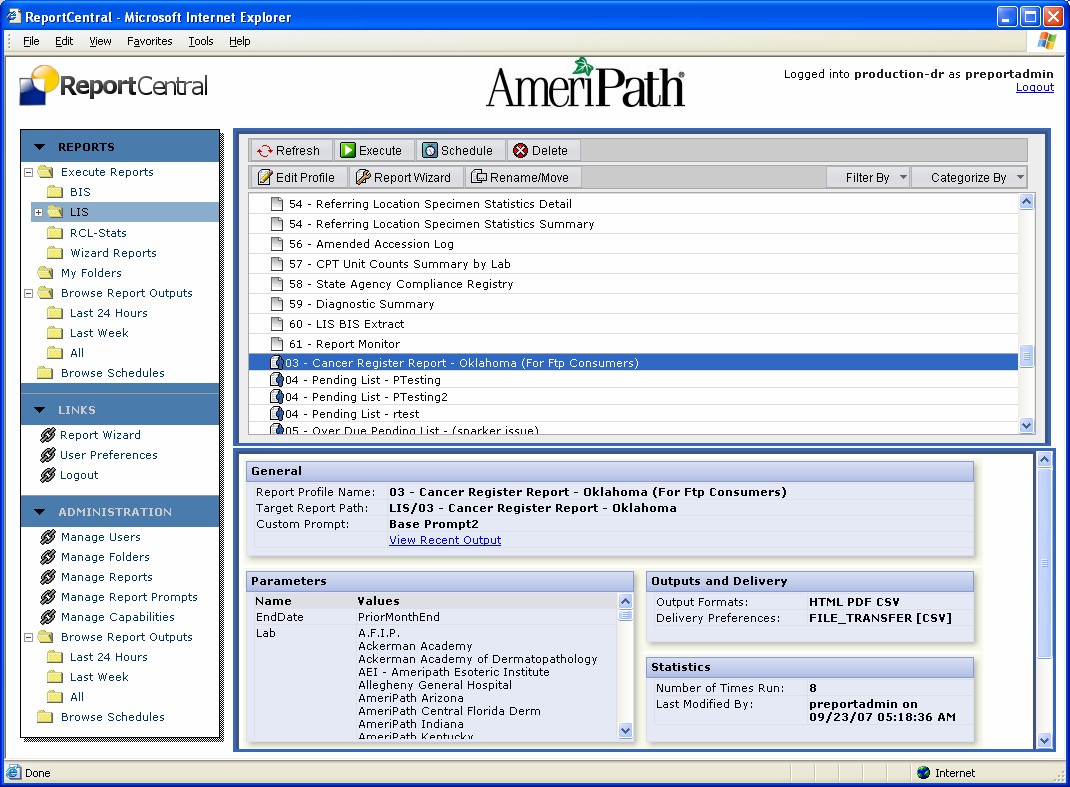 (2007 – ADF Reference App)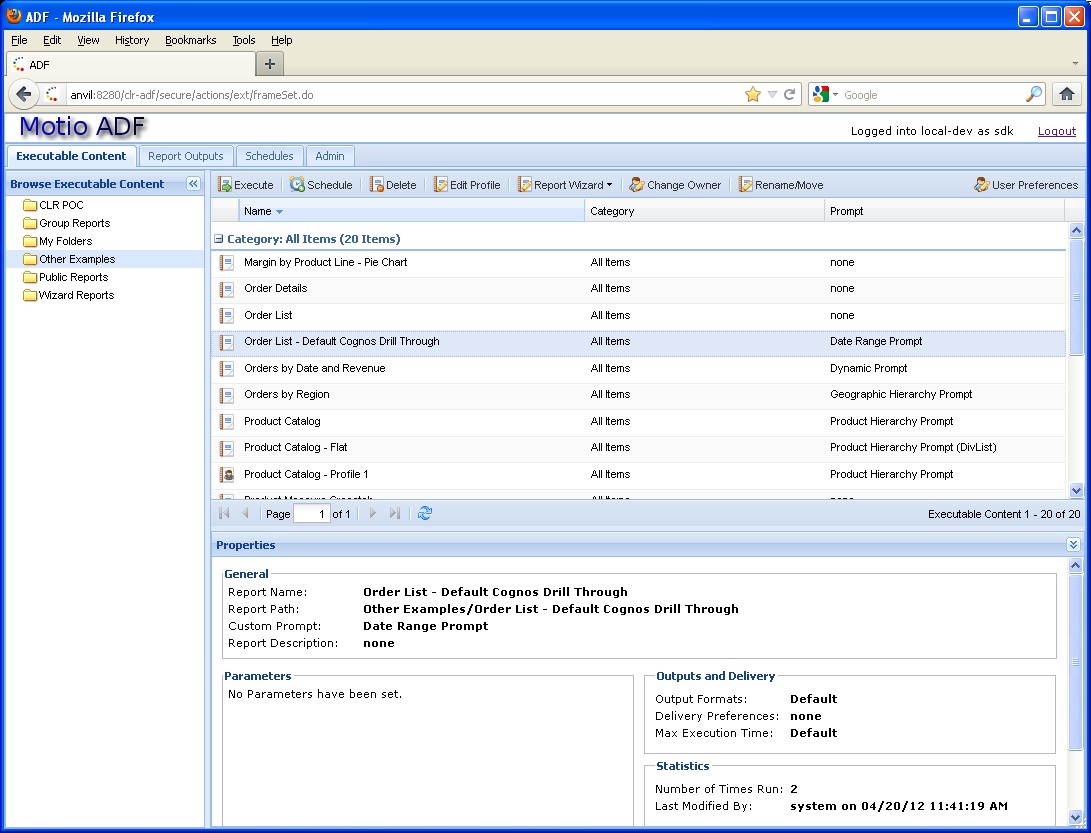 (2012 – ADF Reference App)
Using MotioADF, we went on to help customers build some truly extraordinary applications which surfaced Cognos content in new and exciting ways.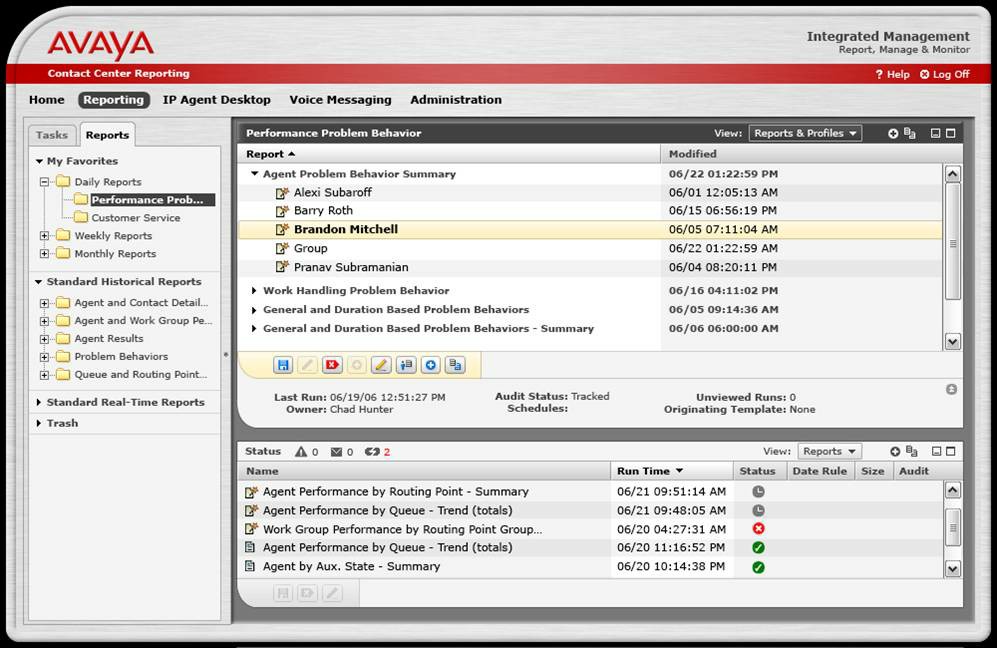 (2006 – ADF Customer Screenshot)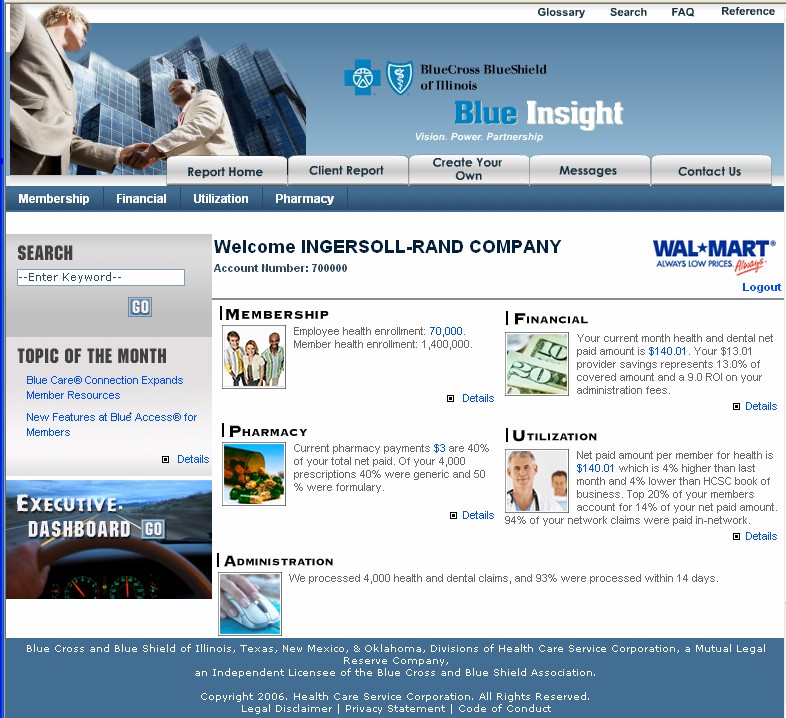 (2006 – ADF Customer Screenshot)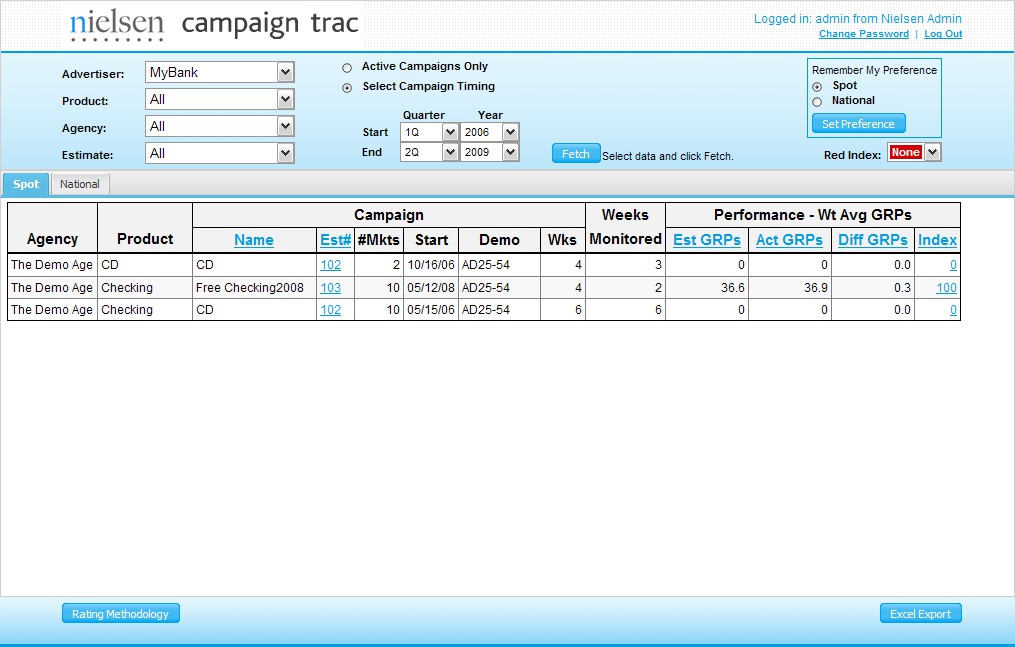 (2009 – ADF Customer Screenshot)
Later that same year saw the addition of a second product – the CAP Framework. The CAP Framework (now simply MotioCAP) allows customers to efficiently integrate Cognos with non-standard or proprietary security sources. Since its inception, the MotioCAP framework has been used to secure Cognos instances for a very large and diverse set of customers – everything from public universities and large financial institutions to several branches of the U.S. military.
During this same time period, we also identified several opportunities to greatly improve the typical BI development process.  Most BI development teams during this timeframe were missing key "best practices" such as version control and automated testing.
In 2005, we set out to provide Cognos customers with a tool which would fill those gaps. Version 1.0 of FocusCI was completed in early 2006, and offered version control and automated testing for Cognos reports.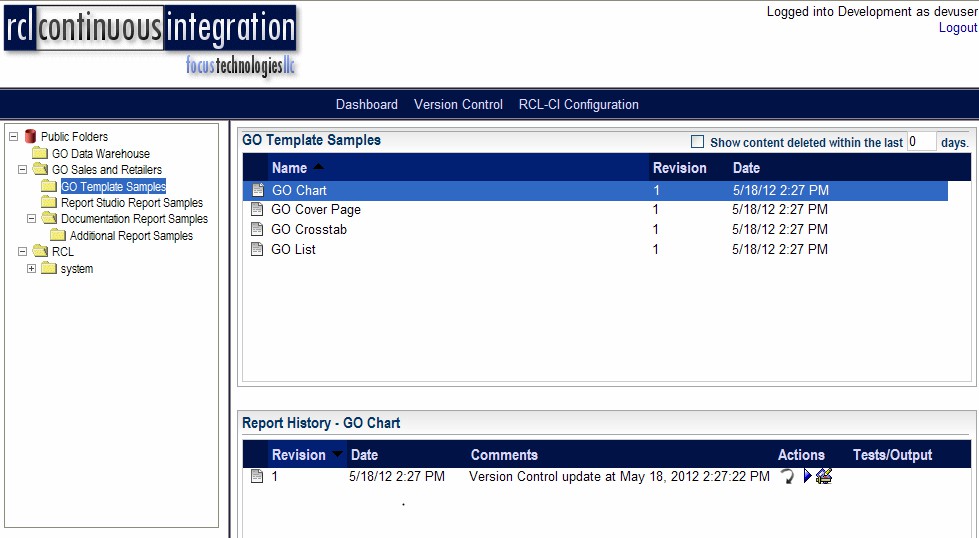 (2006 – MotioCI 1.0)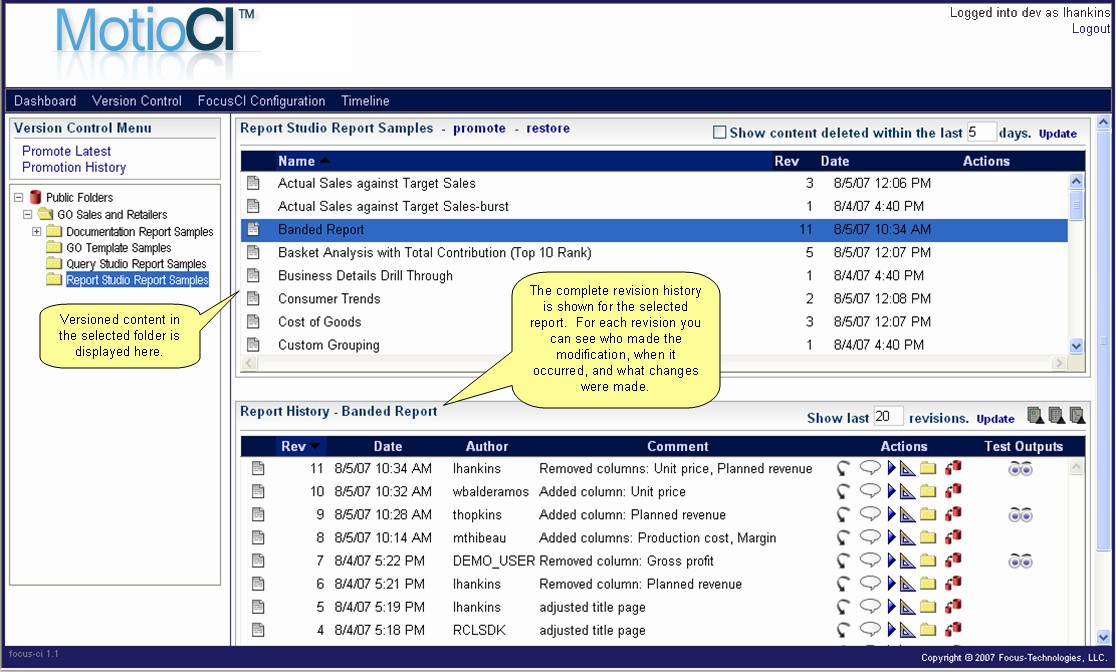 (2007 – MotioCI 1.1)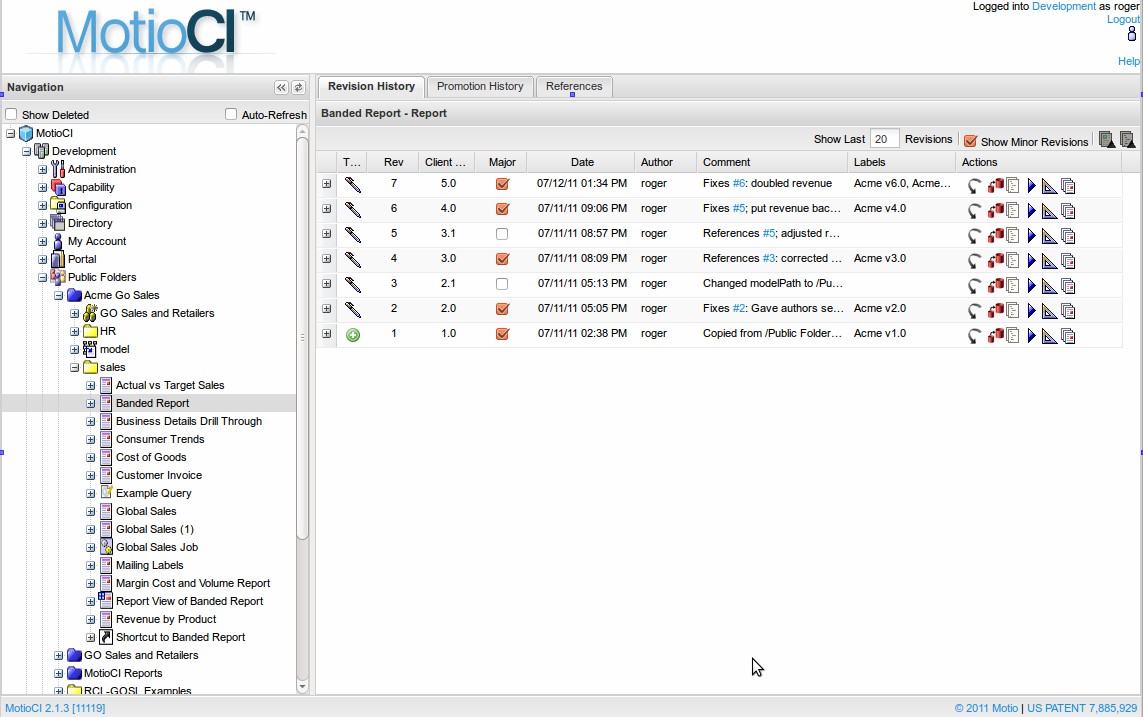 (2011 – MotioCI 2.1)
In late 2007, a trademark dispute with Information Builders over the name "Focus" forced the company to consider a name change. It was a very stressful time for us – I often likened it to someone informing you that you're going to have to rename your eight year old child. After weeks of stressful debate and many candidates, we finally found a name that fit. In early 2008, Focus Technologies became Motio.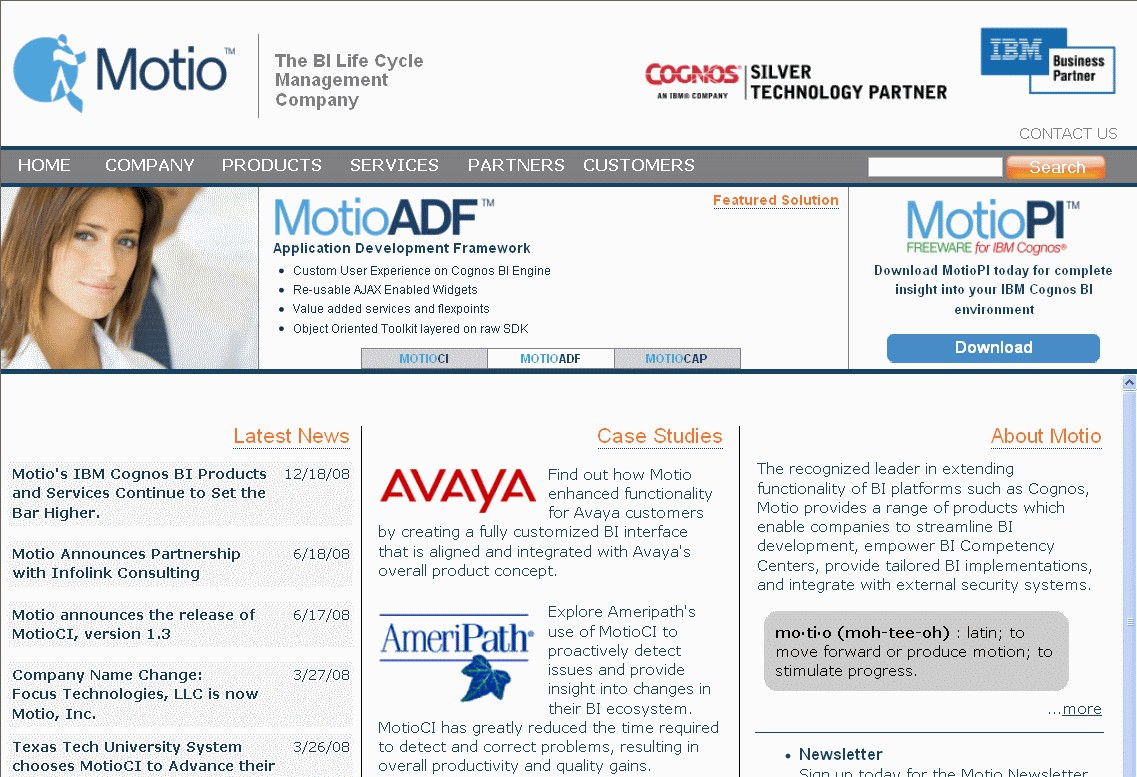 (2008 – Focus becomes Motio)
Putting the distraction of the name change behind us, we forged ahead with our existing products, and even expanded into new areas.
In late 2008, we introduced MotioPI – a free tool for Cognos administrators and power users.  MotioPI is aimed at giving Cognos teams greater insight into the content, configuration and usage of their Cognos environments.  It is now used by thousands of users throughout the global Cognos community.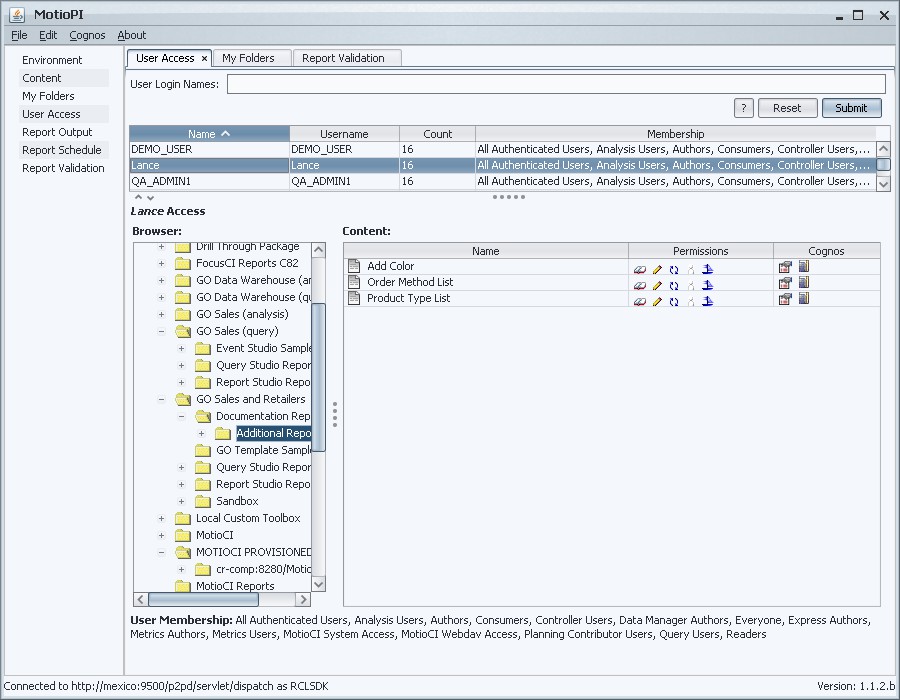 (2009 – Early PI User Access)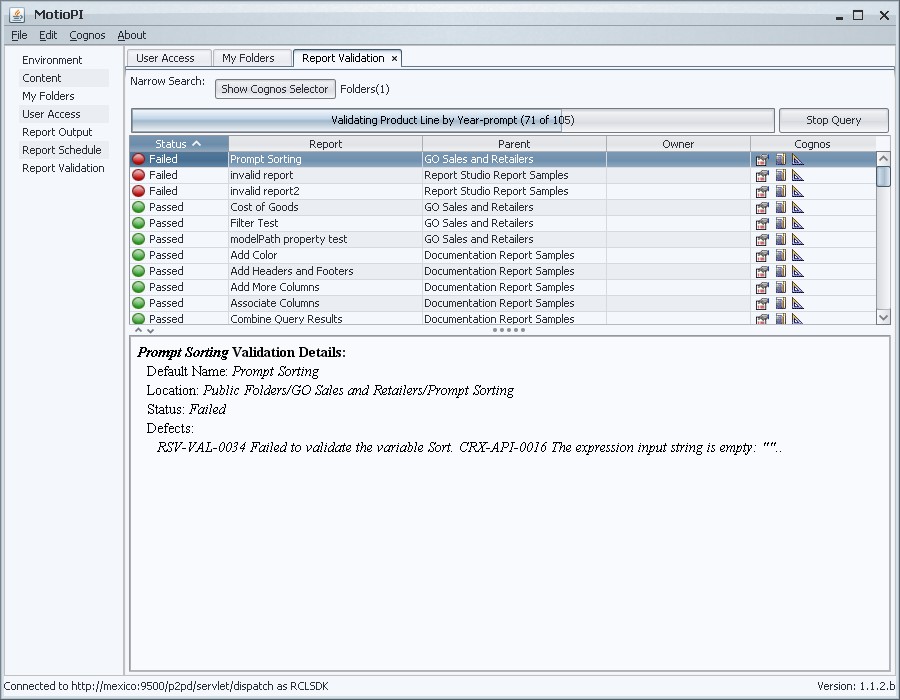 (2009 – Early PI Validation)
In 2009 Motio partnered with Amazon to launch MotioCI Air, a SaaS version of MotioCI which is hosted in the Amazon EC2 cloud, yet versions Cognos environments hosted at customer facilities. This marked Motio's first foray into the software as a service business.

(2009 – Motio Launches MotioCI Air in Amazon EC2 Cloud)
In 2010, the forward-thinking product teams at Motio celebrated many successes.
First, Motio released version 2.0 of MotioCI, which included much improved user experience as well as support for versioning ANY property on ANY Cognos object type.
2010 also marked the launch of MotioPI Professional, which facilitates the bulk management and administration of Cognos Content (search and replace across report specs, bulk update of user preferences, portal pages and object properties, etc.).
The final product release of 2010 was Motio ReportCard. ReportCard is designed to provide analytics on Cognos BI implementations. ReportCard finds common errors, inefficiencies and duplicate reports. ReportCard also marked Motio's second SaaS offering hosted in the Amazon EC2 Cloud.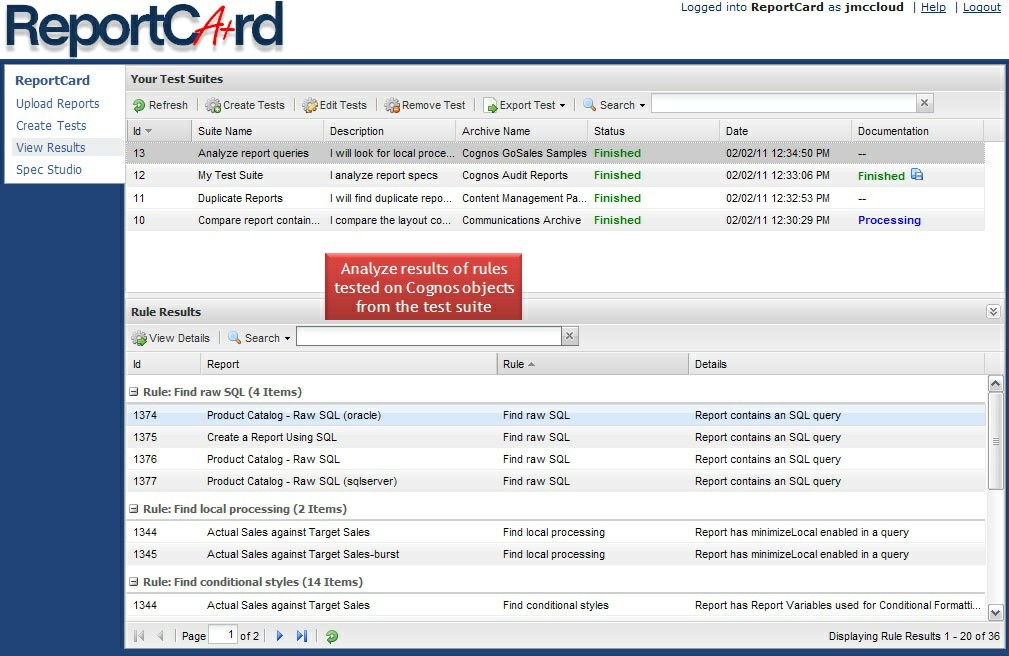 (2009 – An early version of ReportCard)
At the 2010 IBM Information on Demand conference, Motio was awarded the IBM ISV Achievement Award for innovative software.
2011 saw the release of MotioVault, a special purpose archiving solution for the long-term storage of Cognos BI outputs. Vault is designed to offload the burden of managing historical outputs from the Cognos Content Store, while still allowing consumers to view these outputs directly from Cognos Connection.

(2011 – The MotioVault Icon in Cognos Connection)
Later that same year Motio acquired the Cognos Namespace Migration product from long time business partner, SpotOn Systems. This technology facilitates the migration of Cognos content and configuration from one authentication provider to another (e.g. migrating from Series 7 Access Manager to LDAP or Active Directory).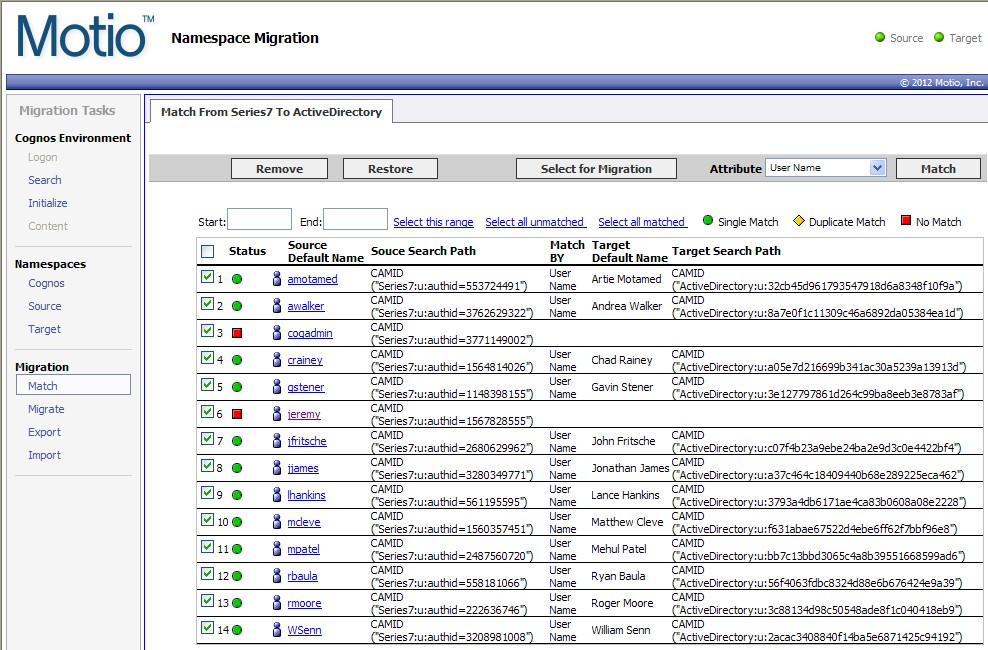 We'd like to thank each and every one of our customers for making the past 13 years possible.  I'd personally like to thank all of the Motio employees who's dedication and hard work have propelled the company.