In this week's episode of Qlik Luminary Life, we had the pleasure of speaking with Nitesh Sethi, CEO of CliqVenus Consulting and Services, and learned more about how Qlik has helped him land Fortune 500 and 100 clients, his experience as a 3x Qlik Luminary, and why he's searching for his cell phone in the future.
Why did you decide to apply to be a Qlik Luminary?
I thought that this was the best way to represent Qlik without being an actual employee. Even after years of working on the Qlik platform, customers could not fully trust our CliqVenus solutions but being a Qlik Luminary gives us an extra competitive edge now.
Favorite thing about Qlik?
It's a trendsetter. Other tools follow the innovations that Qlik brings to the market.
Tell me about the biggest challenge Qlik helped you to overcome.
The biggest challenge when I started my company Cliqvenus was to find an opportunity to work with Fortune 100 & 500 companies, but thanks to Qlik we were able to onboard some really big clients.
Advice for those wanting to become a future Luminary?
Stick to Qlik and don't get lost in the ocean of the BI world. Myself & Gartner's Magic Quadrant both feel that Qlik is still way ahead of its competitors.
Can you tell me about how you're integrating Qlik Sense charts into websites and some of the mash-up work you've been doing?
Many clients want to integrate the power of Qlik into their websites without having to go into the Qlik platform and with Qlik's open API we can pull Qlik charts into the websites and they look phenomenal.
When you're not working and being a Luminary what hobbies or activities do you enjoy?
I love traveling so I utilize most of my leisure time to explore new people, cultures & places.
Name a song you have completely memorized.
"Don't Leave me Alone" by David Guetta feat Anne Marie
What would be your first question after waking up from being cryogenically frozen for 100 years?
Where is my cell phone?
Interested in learning more about Nitesh Sethi, CEO of CliqVenus? Be sure to follow him on his social media handles listed below and be sure to stay tuned for episode three!
If you're a Qlik Luminary and are interested in being featured for our blog series contact Michael Daughters at mdaughters@motio.com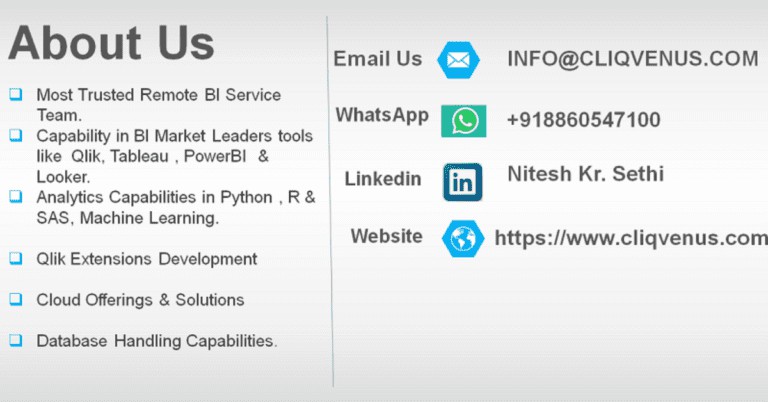 How many changes are you saving locally when working in Qlik Sense to ensure you don't lose anything? Why spend all that time when you can be using Soterre? Click here to learn more.